Application / Nomination for Provost
Submission deadline is 5th August, 2023
Advertisement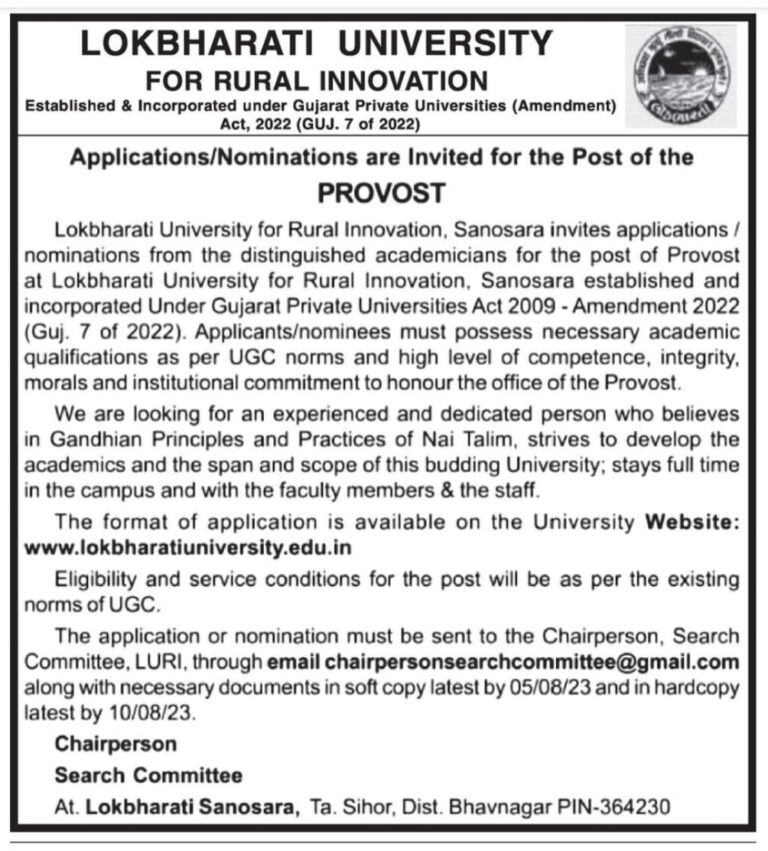 Lokbharti University for Rural Innovation has created a magnetic field to attract people with passion, compassion and aspiration for quality. If you have such traits, my dear friend, you are most welcome to join the team.
Please drop your grammatically correct, professionally formatted and thoroughly judicious CV to the email address given here:
provclokbharatiuniversity@gmail.com
In your application, do write your views on the best practices of higher education in the world in 150 words.
Once we receive your application, and if it is found befitting for the post and vision of the university, we will call you for the detailed discussion.
Lokbharati University for Rural Innovation invites applications for the prospective B.Ed. program.
Principal
Qualifications: As per NCTE and UGC
Interested candidates may send their detailed CV to the following email: registrarlokbharatiuniversity@gmail.com
Registrar - Lokbharati University for Rural Innovation.
*QUALIFICATION:
AS PER UGC NORMS.
Department of English and Communication Skills
B.A. (Applied Psychology)
Department Of Animal Husbandry
B.R.S. (Animal Husbandry)
Department Of Agro Processing
Department of Agro Processing
Department Of Natural Farming